Supporter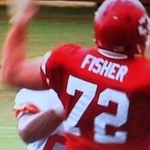 Join Date: Aug 2001
Location: street
Casino cash: $22308
Senior Bowl recaps
---
some links, some opinions...
http://sports.yahoo.com/blogs/nfl-sh...4714--nfl.html
Quote:
The real story of the South team's 21-16 victory over the North squad was the defenses for both teams, and no player better personified that better than game MVP Ezekiel "Ziggy" Ansah, the BYU sensation and former track star from Ghana who exploded off the snap over and over again.

Though he appeared to have issues maintaining leverage in practices this week, Ansah really showed up when it counted, grabbing six solo tackles, 1 1/2 sacks, and 3.5 tackles for loss....

...There wasn't much to talk about from the quarterback perspective -- many of the senior quarterbacks looked overwhelmed by the pressure brought from each defensive line, and there will be many questions in NFL front offices when teams break down the All-22 tape of this game and the practices. North Carolina State's Mike Glennon finished with a lot of reps and little to show -- just eight completions in 16 attempts for 82 yards, no touchdowns and an interception. Syracuse's Ryan Nassib threw a terrible pick to Georgia safety Bacarri Rambo, and completed just 4 of his 10 attempts.

Arkansas' Tyler Wilson looked tentative for most of the day, throwing checkdown after checkdown, and he was nearly intercepted on one his few long passes. Oklahoma's Landry Jones may have had the worst day, completing 3 of 9 passes for 16 yards.
http://www.nfl.com/news/story/0ap100...ers-and-losers
Quote:
The quarterbacks

No one stepped up. All six quarterbacks at the Senior Bowl came in looking like guys that could get taken anywhere from the end of round one to round four. None of the quarterbacks seemed to separate.

Of the entire group, it sounds like Arkansas' Tyler Wilson and Oklahoma's Landry Jones had the best weeks. But that assessment differs depending on who you ask. Mayock believes N.C. State's Mike Glennon showed inconsistencies. Miami of Ohio's Zac Dysert did not seem to have a great week. Syracuse's Ryan Nassib, who sounds like an Andy Dalton-like prospect according to Mayock, didn't overly impress. Coaches liked Florida State's EJ Manuel.
[long, chiefs-centric compilation of scouts takes based on practices, not game]
http://arrowheadaddict.com/2013/01/2...hiefs-edition/
Quote:
I'm going to just be up front with you about the QBs at the Senior Bowl. Very little was done to change perceptions of this QB class. Before the week at the Senior Bowl if you asked NFL draft "experts" who the best QB there was you would have had some answer Arkansas's Tyler Wilson, some say NC State's Mike Glennon, and a few say Syracuse's Ryan Nassib. After the Senior Bowl practices, nothing had changed. Some were saying Wilson looked the best, some were saying Glennon, and a few were saying Nassib. Basically, none of these guys did enough to change people's minds. If you were a big fan of one of these three before, they didn't do poorly enough (in practice) to scare you off and none of the other guys were SO good that they changed your mind...

...My concern is that if they don't take a QB #1 overall (cough, Geno Smith, cough), I'm not sure I want them to take a QB at #34. Let's say at least 3 QBs go in the first round, that means KC is committing the #34 overall pick (which should yield an impact player) to a QB that is essentially the leftovers in a weak QB class. I say if they find a QB that they think is clearly the best in this draft, take him at #1 (cough, Geno Smith, cough)...

...If I had to pick a position group that had the best week during Senior Bowl practices it might have been the WRs. There were four WRs that seemed to drastically help their draft status during the week. All four were listed as standouts by multiple sources. Again, in no particular order:

Marquise Goodwin – Texas – 5'9″ 179 lbs
Chris Harper – Kansas State – 6'1″ 228 lbs
Quinton Patton – Louisiana Tech – 6'0″ 202 lbs
Markus Wheaton – Oregon State – 5'11″ 183 lbs

You'll get differing opinions from different sources, but the general consensus seems to be that Goodwin and Wheaton would make great slot WRs and Harper and Patton would be solid #2 WRs for most teams (some think Wheaton could be a #2 as well)...

...In terms of the CBs, Poyer and Trufant are probably in the top 5 at the position now while Alford, McFadden, and Webb proved themselves to be solid prospects that could go in rounds 3-5. Jonathan Cyprion earned very high praises from every single report coming out of Mobile. He's probably one of the players that helped himself the most. Cyprion reportedly went 100% on every snap in practice, was very physical, and also showed some good coverage ability. He went from being a virtual unknown to many to a guy that could see his name called on day 2 of the draft.
http://www.al.com/sports/index.ssf/2..._during_s.html
Quote:
Among the other players who likely pushed their draft stock up with strong performances in practices or the game:

Sylvester Williams, DT, North Carolina - He was a handful during one-on-ones all week and was voted the top performer in practices among the defensive linemen.

Ezekial Ansah, DE, BYU - He wasn't as much of a force in one-on-ones, but he was a beast in the game, making seven tackles, including 1½ sacks and 3½ tackles for loss, and forcing a fumble to earn outstanding player honors for the South.

Michael Williams, TE, Alabama - All three South tight ends - Williams, Tennessee's Mychal Rivera and Rice's Vance McDonald - excelled during practices, but Williams left Mobile with perhaps the highlight of the week, a 20-yard over-the-shoulder touchdown catch that showed he can be a weapon downfield.
http://fifthdown.blogs.nytimes.com/2...ool-standouts/
Quote:
...The most interesting discussions we've had with colleagues this week have been about three things: players who showed something different than what we've seen from game study; players who have engendered polarizing views; and the large and intriguing contingent of small-school prospects invited to Mobile this year.

Pleasant Surprises

DE Datone Jones, U.C.L.A.

Bramel: Jones was impressive in the roles the Bruins asked him to play in their 34 defense this season. He was disruptive against the run but only rarely had an opportunity to show off his ability to rush the passer. In Mobile, Jones showed off an explosive first step and above-average edge rush capability that will complement his already strong bull rush. That could put him on the radar of teams that use a 4-3 front and add to his already strong resume of versatility.

WR Quinton Patton, Louisiana Tech

Waldman: Rotoworld draft analyst Josh Norris has been an unabashed fan of Patton's game before the Senior Bowl. I liked his athleticism but didn't see a lot of opportunities in the Louisiana Tech offense for Patton to demonstrate refined skills that he'll need to use as a professional. Patton couldn't out-athlete everyone in Mobile this week, and it was his ability to get quick releases with his hands, get on top of defenders early in the stem portion of his routes, and then maintain that separation deep that helped me see that added dimension to his game that I have not seen from the games I've studied of Patton's thus far. Today, Patton was burning defenders deep seemingly at will and catching almost everything thrown his way. His techniques were among the sharpest of the South receivers, rarely drawing criticism and earning consistent praise. When he didn't get easy separation, he often drew it late or made contested catches – and that didn't happen as often as I expected coming into the week. Patton and Markus Wheaton are the two best receivers I saw this week.

Most Polarizing Prospects

DE Ezekiel Ansah, B.Y.U.

Bramel: He has only started a handful of college games, but Ansah's versatility and athleticism had scouts buzzing in recent days. Some observers openly wondered whether Ansah's ceiling could make him worthy of a mid-high first-round pick. Though he'll still have strong supporters after this week, Ansah failed to show an explosive first step or a consistent ability to drive the top offensive tackles off the line of scrimmage. Much like last season, the 2013 class of defensive end prospects are tough to compare to one another due to differences in size and style of play. Ansah could attract the attention of some teams, while not interesting others at all. Melvin Ingram slipped further than expected last season, while Bruce Irvin went earlier than predicted. We won't know which category Ansah will fall into until April, but he's a lock to be among the most hotly debated prospects until then....

Small-School Standouts

WR Aaron Mellette, Elon

Waldman: I'm hesitant to call Mellette a standout, but his play has grown on me this week. I was not a fan of Brian Quick's game when the small-school standout was in Mobile last year. I didn't see anything in his college games or in Senior Bowl practices that stood out. He had raw athletic skill but seemed lost when it came to harnessing it with the football in the air. Like Quick, Mellette has a lot to refine when it comes to releases and routes, but the Elon starter consistently finds a way to use his athleticism to win battles despite his lack of technique. As he improved his releases, getting separation down field became easier and I saw more uncontested receptions on deep targets – in fact, multiple deep plays on Day 3. He's what many would term a project, and a lot about Mellette's future will depend on the team that takes a chance on him, but when a player makes successful plays despite the fact he's not technically doing himself any favors, he's worth consideration with the long view in mind.