Quote:
Originally Posted by
BigRedChief

Don't you already have enough to complain about? Tie selection?
Dude, get with the program. This POTUS is based on image and style over substance. Why his handlers would allow for him to blend into a wall for his first major speech in front of the UN is beyond me. He looks GREEN.
Wait, maybe that is not by accident. The way he's spending money these days.

__________________
Meet the new boss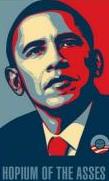 same as the old boss.

BigChiefDave:"Anyone who thought we would only be in Iraq for a few years is either stoned or just stoopid."
"It is unknowable how long that conflict will last. It could last 6 days, 6 wks. I doubt 6 mths." Rummy 2/7/03