http://www.footballoutsiders.com/nfl...ker-score-2014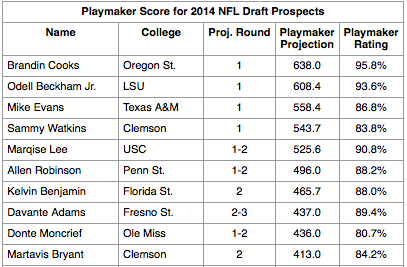 Brandin Cooks, Oregon State
Playmaker Projection: 638.0 Yards
Playmaker Score: 95.8%
The hype around Brandin Cooks has been growing over the past couple of weeks, and Playmaker believes that it is well-deserved. (How appropriate of our good friend Robert Mays to writea nice big feature on Cooks at Grantland today.) Cooks recorded 1,730 receiving yards his junior year, which is still a strong number even though the Oregon State Beavers dropped back to pass 625 times. Moreover, Cooks had 32 rushing attempts last year, more than any other prospect in his class, suggesting that his receiving numbers would have been even higher had he not proven to be so versatile.
The knock on Cooks is his small-ish frame, but he is heavier than both DeSean Jackson and Steve Smith were when they were drafted. A greater concern is his reported inability to get off the line cleanly, as he reportedly has trouble with physical defenders and NFL cornerbacks will be much more physical than those native to the pass-happy Pac-12.
Marqise Lee, USC
Playmaker Projection: 525.6 Yards
Playmaker Score: 90.8%
The most noteworthy factor for Marqise Lee is the difference between his production in his "peak" season and his production last year. As a sophomore, Lee recorded 1,721 receiving yards with 14 touchdowns and still managed to squeeze in 13 rushing attempts. That guy would undoubtedly be the strongest prospect in this class from a Playmaker perspective. However, that's not what teams are looking at here, as Lee crashed to the Earth in a big way in 2013, recording only 791 receiving yards with four touchdowns.
On balance, Playmaker likes Lee and only places him behind Evans and Watkins because his draft stock has slipped a bit in the eyes of draftniks recently (NFL Draft Scout projects him as a "1-2" rather than a "1"). However, scouts have been pretty good at sorting out receivers who turn in poor performances in their final seasons. Dez Bryant and Torry Holt were first-round picks, but lesser talents who experienced production drops, such as Lee Mays and Eugene Baker, were allowed to drop to the later rounds. So the fact that Lee is still in relatively high regards with scouts could suggest that he may be closer to the guy who had 1,721 receiving yards than the one who had only 791.
Potential Bust Alert: Robert Herron, Wyoming
Projected Round: 3-4
Playmaker Projection: 171.2 Yards
Playmaker Score: 24.0%
Picking a potential bust this year was difficult, given that Playmaker is fairly high on all of the wide receivers slated to go in the first two rounds. So the award goes to Robert Herron, who scouts think should come off the board in the middle of the draft, but who Playmaker thinks should go at the end of the draft, if at all. Herron stayed in school for a full four years, which is typically a sign of a lesser talent at the wide receiver position. This could be forgivable potentially, given that Wyoming is a smaller school, but Herron also failed to put up impressive numbers against inferior competition. Herron failed to crack 1,000 receiving yards during his time at Wyoming, even during his senior year, when the Cowboys passed 473 times. Herron's yards per catch is also fairly low (13.4) despite only rarely being used in the running game.
Potential Sleeper Alert: Austin Franklin, New Mexico State
Projected Round: 7
Playmaker Projection: 245.1 Yards
Playmaker Score: 86.6%
Franklin weighs only 189 pounds and recorded only a 4.56 forty-yard dash. Add that to the less than stellar competition that Franklin faced playing for New Mexico State, and you have a recipe for indifference from NFL scouts. However, Franklin had a nice career statistically. During his best season, he had over three yards for every team attempt and had a peak touchdown per attempt season that was nearly as good as Sammy Watkins'. Moreover, Franklin was also used as a running threat, averaging nearly a rushing attempt per game in his peak season, and still managed a solid 15.2 yards per catch. Seventh- round picks are nearly throwaways anyway, and although Franklin will not likely amount too much due to his low draft position, a team could make much worse bets at the end of the draft.
What follows is a list of all of the FBS wide receivers who were invited to the Combine and their Playmaker Projections and Ratings, ordered by Playmaker Projection: