» Stats
Members: 10,964
Threads: 229,514
Posts: 12,145,384

Welcome to our newest member, Maddbarber919

» Welcome, guest!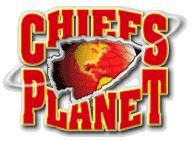 Welcome to ChiefsPlanet,
a Kansas City Chiefs Message Board
This forum is fast and furious with discussion on all variety of topics. Newbies welcomed. If you enjoy reading, don't be shy - please jump in and post!
If this is your first visit, be sure to check out the FAQ by clicking the link above. You will have to register before you can post; click the register link above to proceed. To start viewing messages, visit our main forum, The Lounge or click on a thread title below this message.
» Recent Threads
Title, Username, & Date
Last Post
Replies
Views
Les Miles settles buyout with LSU; is a new job on the horizon?

Today

10:50 PM

by

MahiMike

52

1,466

-- Don't underestimate Walmart's hot food bar!

Today

10:48 PM

by

loochy

78

1,586

***College Football 2018 Thread***

Today

10:48 PM

by

TribalElder

1,134

21,387

Roster move coming?

Today

10:47 PM

by

MahiMike

54

1,682

Potential top 3 pick Ed Oliver tries to fight HC

Today

10:47 PM

by

Demonpenz

46

1,627

Eric Berry has a Haglundís deformity on his heel

Today

10:47 PM

by

kjwood75nro

2,220

63,149

Let's talk about the Rams

Today

10:45 PM

by

Simply Red

500

16,890

*****The Patrick Mahomes Thread*****

Today

10:44 PM

by

DRM08

19,545

944,911

Did you know that Babe Ruth was a pitcher?

Today

10:42 PM

by

Demonpenz

38

645

****Official 2018 Missouri Tigers Football Thread****

Today

10:41 PM

by

MahiMike

980

17,573

» Online Users: 456
80 members and 376 guests
Al Bundy, Archie Bunker, AssEaterChief, AustinChief, bevischief, BigRichard, BlackOp, bsp4444, Buehler445, CaliforniaChief, Chief Northman, Chief3188, Chiefs4TheWin, ChiliConCarnage, Cosmos, dannybcaitlyn, Demonpenz, Detoxing, Discuss Thrower, DRM08, dwwataz, eDave, emaw82, Fat Elvis, Fish, Fishpicker, GloryDayz, GloucesterChief, Hammock Parties, hometeam, IChief, Joshuabmayer, kccrow, KChiefs1, kjwood75nro, LittleMeatballNick, LoneWolf, loochy, louie aguiar, Lzen, MahiMike, MIAdragon, Misplaced_Chiefs_Fan, montanachief, Mr. Plow, Mr_Tomahawk, oaklandhater, okchiefsfan, phisherman, Pitt Gorilla, Priest31kc, RippedmyFlesh, rydogg58, savchief, Simply Red, smithandrew051, staylor26, Taco John, Whereizzy
Most users ever online was 4,753, 12-04-2015 at 09:37 PM.