» Stats
Members: 11,392
Threads: 231,021
Posts: 12,290,145

Welcome to our newest member, Patseasonticket

» Welcome, guest!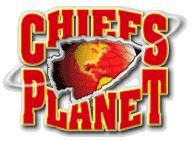 Welcome to ChiefsPlanet,
a Kansas City Chiefs Message Board
This forum is fast and furious with discussion on all variety of topics. Newbies welcomed. If you enjoy reading, don't be shy - please jump in and post!
If this is your first visit, be sure to check out the FAQ by clicking the link above. You will have to register before you can post; click the register link above to proceed. To start viewing messages, visit our main forum, The Lounge or click on a thread title below this message.
» Recent Threads
Title, Username, & Date
Last Post
Replies
Views
Then & Now...Week 6 vs. AFCCG

Today

08:42 PM

by

Yehoodi

81

1,673

Following victory on Sunday, the moon will be painted red

Today

08:42 PM

by

RealSNR

21

353

Mahomes on 810 NOW

Today

08:41 PM

by

BWillie

27

1,042

Is this going to be the loudest game ever at Arrowhead?

Today

08:41 PM

by

bobbything

53

1,238

Chiefs AFC Championship Game Tailgate Thread

Today

08:39 PM

by

Superturtle

228

4,017

Let's talk about the Patriots

Today

08:39 PM

by

ThanksForTheLoan

578

19,354

Phoenix Area CP Gathering

Today

08:38 PM

by

Why Not?

620

22,019

AFC Championship Game Ticket Raffle [check your PMs & send money via PayPal]

Today

08:38 PM

by

crispystl420

139

1,966

Early AFCCG Forecast: High of 19°

Today

08:36 PM

by

007

324

7,699

**** Official Chiefs VS Patriots AFC Championship Game Thread ****

Today

08:34 PM

by

RobertWeathers

1,273

31,245

» Online Users: 495
158 members and 337 guests
-King-, 007, 65TPT, AJKCFAN, alanm, aloyouis, AndChiefs, Angry fan, Archie Bunker, arrwheader, AssEaterChief, BDj23, Best22, BigRedChief, blake5676, Blick, bobbymitch, bobbything, Boiled Chicken, BossChief, Buehler445, BWillie, cabletech94, CapsLockKey, carcosa, CHENZ A!, Chief3188, ChiefEd, ChiefinSD, Chiefs42, ChiefsandO'sfan, chiefzilla1501, crispystl420, dallaschiefsfan, dannybcaitlyn, Dartgod, displacedinMN, DJKid, Donger, DRM08, eDave, el borracho, emaw82, Fansy the Famous Bard, farmerchief, FringeNC, Fritz88, frozenchief, GMitch, Graystoke, Haglund's_Spirit, Hammock Parties, HermanHater, hinde58, hometeam, htismaqe, Indian Chief, IowaHawkeyeChief, Iowanian, jerryaldini, jet62, Jim Hammer, jimidollar, jjchieffan, jjkrueg, JohninGpt, jsmax, Judge Smails, Katie, KChiefs1, kcmecker, KCtotheSB, kjwood75nro, KS Smitty, KurtCauley, LiveSteam, LongSufferingToady, Lono, mac459, MahomesKnows, MeaTy The Pimp, Meli.matrix, Mennonite, MichaelH, mililo4cpa, Misplaced_Chiefs_Fan, mlyonsd, montanamike, Mr. Plow, mr. tegu, Msfbulldog, MTG#10, Munson, O.city, otherstar, Otis Day, Pablo, PattyFlakes, penguinz, petegz28, Pogue, PRIEST, ptlyon, Raiderhader, RaytownChief, RealSNR, Red Dawg, Rivaldo, RobertWeathers, RodeoPants2, RollChiefsRoll, Rukdafaidas, Sannyasi, SAUTO, Shasta01, staylor26, Steron, stevieray, stumppy, SupDock, Superturtle, SwayzeExpress, Sweet Daddy Hate, Taco John, ThanksForTheLoan, The Pest, TheNoob, Titty Baby, TopJet2, TwistedChief, tyler360, WhawhaWhat, WhiteWhale, Why Not?, Wrasse, Yehoodi
Most users ever online was 4,753, 12-04-2015 at 09:37 PM.