» Stats
Members: 11,706
Threads: 231,953
Posts: 12,363,690

Welcome to our newest member, Derikwak

» Welcome, guest!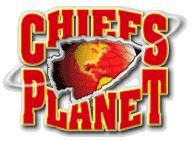 Welcome to ChiefsPlanet,
a Kansas City Chiefs Message Board
This forum is fast and furious with discussion on all variety of topics. Newbies welcomed. If you enjoy reading, don't be shy - please jump in and post!
If this is your first visit, be sure to check out the FAQ by clicking the link above. You will have to register before you can post; click the register link above to proceed. To start viewing messages, visit our main forum, The Lounge or click on a thread title below this message.
» Recent Threads
Title, Username, & Date
Last Post
Replies
Views
Seahawks loved Mahomes so much they would have replaced Wilson

Today

02:32 PM

by

Pablo

47

2,128

2019 Free agency Thread

Today

02:32 PM

by

YontsRBake

739

18,611

Chiefs to Franchise Tag Dee Ford

Today

02:28 PM

by

staylor26

97

3,149

Star cuts ties with John Sleezer

Today

02:25 PM

by

Pitt Gorilla

33

1,831

Players that could fit Chiefsí needs in later rounds of draft, ESPNís Mel Kiper Jr.

Today

02:11 PM

by

ChiefGator

19

1,620

-- What kind of dog food and dog treats do you like?

Today

01:33 PM

by

htismaqe

79

2,988

Broncos news megathread

Today

01:15 PM

by

TEX

34,054

1,728,141

Nassau - Any Suggestions

Today

01:15 PM

by

cookster50

31

1,209

***** Official 2018-2019 Kansas Basketball Repository Thread *****

Today

01:15 PM

by

Buehler445

1,632

60,922

Las Vegas Raiders?

Today

01:10 PM

by

chiefzilla1501

312

32,227

» Online Users: 578
105 members and 473 guests
-King-, 2bikemike, bax_, Beef Supreme, big nasty kcnut, BigRichard, Buehler445, carcosa, CatfishBob2, ChiefAshhole1056, chiefforlife, chiefs1111, ChiefsFanWNY, Clyde Frog, Corandval1977, Demonpenz, Discuss Thrower, DJJasonp, dlphg9, Donger, DrRyan, fan4ever, Flying High D, FringeNC, gaston11, gh4chiefs, Go Royals, God of Thunder, Great Expectations, Hali-lujah, Hammock Parties, HonestChieffan, iachief, Iowanian, JakeLV, Jamie, Javabean, Jim Hammer, JohninGpt, KC kid, KCUnited, Kiimosabi, King slayer, krono, lawrenceRaider, LiveSteam, MagicHef, Malcor, Marcellus, mazrim1978, Meli.matrix, MephistophelesJanx, milkman, montanachief, Munson, NashvilleRock.net, ntexascardfan, Nzoner, O.city, old_geezer, osumatt, ottawa_chiefs_fan, Pablo, PatriotsGuy, PHANTOM, Pitt Gorilla, ptlyon, Raiderhader, Rain Man, Randallflagg, Renegade, Roy Munson, RunKC, Scaga, Shields68, shitgoose, Sig, staylor26, Superturtle, Sweet Daddy Hate, TEX, The Franchise, The Iron Chief, TimBone, tmax63, Trivers, tyton75, UChieffyBugger, vachief58, vailpass, Warpaint69, YontsRBake, Zook
Most users ever online was 4,753, 12-04-2015 at 09:37 PM.