» Stats
Members: 11,401
Threads: 231,063
Posts: 12,293,486

Welcome to our newest member, Patriots

» Welcome, guest!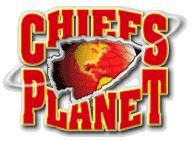 Welcome to ChiefsPlanet,
a Kansas City Chiefs Message Board
This forum is fast and furious with discussion on all variety of topics. Newbies welcomed. If you enjoy reading, don't be shy - please jump in and post!
If this is your first visit, be sure to check out the FAQ by clicking the link above. You will have to register before you can post; click the register link above to proceed. To start viewing messages, visit our main forum, The Lounge or click on a thread title below this message.
» Recent Threads
Title, Username, & Date
Last Post
Replies
Views
***OFFICIAL Patrick Mahomes GIF thread***

Today

10:09 PM

by

DRM08

2,518

133,467

Video: Tyreek and his Momma

Today

10:09 PM

by

Tribal Warfare

0

1

NFL Rumors: Mahomes, Watson atop KC's QB wish list

Today

10:07 PM

by

RealSNR

608

39,000

Mahomes MVP and OPOY

Today

10:07 PM

by

BossChief

2

3

Clark Hunt pictured with Patrick Mahomes and agent in Houston...

Today

10:07 PM

by

God of Thunder

133

14,229

Let's talk about the Patriots

Today

10:06 PM

by

Tunescribe

1,264

28,549

**** Official Chiefs VS Patriots AFC Championship Game Thread ****

Today

10:06 PM

by

KS Smitty

1,699

40,694

*****The Patrick Mahomes Thread*****

Today

10:04 PM

by

Tribal Warfare

21,280

1,069,616

Dont lose your fingers

Today

09:59 PM

by

NJChiefsFan

103

2,635

KC Chiefs media team has been great

Today

09:59 PM

by

Superbowltrashcan

4

260

» Online Users: 406
139 members and 267 guests
-King-, 007, 44yearsandcounting, 493rd, alanm, arrwheader, Ass Rockah, big nasty kcnut, Blick, BossChief, Buehler445, cabletech94, CaliDatGuy, carcosa, ChiefEd, chiefs1111, Chiefs42, ChiefsCountry, Chiefspants, ClarkGriswold, ClevelandBronco, colt459, cooper barrett, CordMcNally, CupidStunt, Dallas Chief, Dartgod, DenverChief, Discuss Thrower, displacedinMN, dj56dt58, DRM08, DrunkBassGuitar, eDave, emaw82, EricBerryismyBae, EWOK, excessive, fan4ever, Fishpicker, FringeNC, gh4chiefs, GloryDayz, GMitch, God of Thunder, Gravedigger, Hammock Parties, HermanHater, HonestChieffan, Hookersnblow, IA_Chiefs_fan, Indian Chief, jackkked, Jerm, jjkrueg, JohnnyHammersticks, journeyscarab, jspchief, Katie, Katipan, KcChiefs23, KDB, KingdomCome, kjwood75nro, KS Smitty, kysirsoze, listopencil, LiveSteam, mac459, MavKC, mightyphoenix1, Mike in SW-MO, Miles, Misplaced_Chiefs_Fan, Mizzou_8541, montanachief, mschiefs1984, New World Order, NJChiefsFan, noa, O.city, Patriots, Phsb2008, Prison Bitch, racejeff, RaidersOftheCellar, Rain Man, Randallflagg, RaytownChief, RealSNR, Red Dawg, RedRaider56, ReynardMuldrake, Rivaldo, RN47, Rob_Nachos, RollChiefsRoll, Rukdafaidas, Salami Swami, Shag, shitgoose, Shox27, slc, solidgold, stevieray, Stinger, SupDock, Superbowltrashcan, suzzer99, Sweet Daddy Hate, TheNoob, Third Eye, thurman merman, TopJet2, Trent Green GOAT, Tunescribe, vachief58, Wilson8, Zebedee DuBois
Most users ever online was 4,753, 12-04-2015 at 09:37 PM.