» Today's Birthdays
Sully (43)


» Stats
Members: 11,434
Threads: 231,165
Posts: 12,300,700

Welcome to our newest member, lord bear

» Welcome, guest!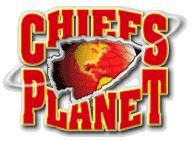 Welcome to ChiefsPlanet,
a Kansas City Chiefs Message Board
This forum is fast and furious with discussion on all variety of topics. Newbies welcomed. If you enjoy reading, don't be shy - please jump in and post!
If this is your first visit, be sure to check out the FAQ by clicking the link above. You will have to register before you can post; click the register link above to proceed. To start viewing messages, visit our main forum, The Lounge or click on a thread title below this message.
» Recent Threads
Title, Username, & Date
Last Post
Replies
Views
Blowfish's Pre-Game Speech: AFC Championship

Today

09:55 PM

by

BDj23

22

693

**** Official Chiefs VS Patriots AFC Championship Game Thread ****

Today

09:53 PM

by

dwwataz

2,413

60,424

Sean Salisbury, Albert Haynesworth, JJ Birden give their thoughts on AFC title game

Today

09:47 PM

by

BWillie

12

876

What's the best graphing calculator I can buy?

Today

09:45 PM

by

BWillie

48

869

'Twas the night before the title game

Today

09:44 PM

by

Eleazar

4

125

***OFFICIAL Chiefsplanet dinner report***

Today

09:42 PM

by

Superturtle

111

1,918

Phoenix Area CP Gathering

Today

09:41 PM

by

lewdog

675

23,629

IF YOU NEED TICKETS - LOOK!

Today

09:37 PM

by

baitism

95

2,607

***Official Rams at Saints NFC Championship Game Thread***

Today

09:37 PM

by

big nasty kcnut

8

72

Anybody else buy Superbowl tickets?

Today

09:35 PM

by

crispystl420

59

1,375

» Online Users: 507
134 members and 373 guests
AbsoluteEvil, AJKCFAN, ArrowheadMagic, AssEaterChief, AustinChief, Baby Lee, baitism, bax_, BDj23, BeMyValentine, Best22, BlackOp, bloomer88, Boooster, bosco, BottomShelfBoose, BWillie, carlos3652, Chief Pagan, ChiefinSD, ChiefsandO'sfan, ChiefsFanatic, chiefsncats, Chiefspants, Chris Meck, clmcclure, CoMoChief, CordMcNally, Crush, DanT, DCTwister, demtenjeep, digger, djchief56, dlphg9, DMAC, DRM08, DrunkBassGuitar, dtrain, dwwataz, e3263518, eDave, GloucesterChief, Goldentriangle, gpsdude, Graystoke, Groves, Hammock Parties, Hamwallet, Hercology, Hog's Gone Fishin, Hookersnblow, IAM4KC2, IChief, Jamie, jenksme, Jewish Rabbi, jhawk90, JohnDONsey, JohnnyV13, kc-nd, KcChiefs23, KCCHIEFS27, KCFalcon59, KCtotheSB, kcxiv, KGSoloman5k, mac459, MAG, MagicHef, MartinThore, Meli.matrix, Miles, Misplaced_Chiefs_Fan, Moorehse, Nevertrap, New World Order, Nickhead, noa, old_geezer, Pablo, Pasta Giant Meatball, Priest31kc, pugsnotdrugs19, RedRaider56, RetiredSeniorChief, Rivaldo, RodeoPants2, RollChiefsRoll, Rukdafaidas, Salami Swami, SAUTO, SDChiefs, slc, staylor26, steelyeyed57, stumppy, Superbowltrashcan, Superturtle, Sweet Daddy Hate, The Bunk, The Iron Chief, thechiefhusker, TheMartyr, TheNoob, theoldcoach, Thunderlizard, TLO, TwistedChief, UTChief, wazu, wutamess, Yehoodi, yeti, Zeke Ziggle
Most users ever online was 4,753, 12-04-2015 at 09:37 PM.