» Stats
Members: 11,406
Threads: 231,078
Posts: 12,294,683

Welcome to our newest member, 8tics

» Welcome, guest!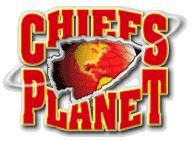 Welcome to ChiefsPlanet,
a Kansas City Chiefs Message Board
This forum is fast and furious with discussion on all variety of topics. Newbies welcomed. If you enjoy reading, don't be shy - please jump in and post!
If this is your first visit, be sure to check out the FAQ by clicking the link above. You will have to register before you can post; click the register link above to proceed. To start viewing messages, visit our main forum, The Lounge or click on a thread title below this message.
» Recent Threads
Title, Username, & Date
Last Post
Replies
Views
***Official where I was and what I did when we won the AFCCG***

Today

12:29 PM

by

D2112

35

186

A 25 year journey (video)

Today

12:29 PM

by

InChiefsHell

13

400

NFL Rumors: Mahomes, Watson atop KC's QB wish list

Today

12:28 PM

by

SAUTO

623

40,278

Let's talk about the Patriots

Today

12:28 PM

by

RobertWeathers

1,675

32,048

Could the New England Patriot BE any more pathetic?

Today

12:28 PM

by

Beef Supreme

59

1,271

It sucks, but I have to miss the AFCCG, due to work...

Today

12:28 PM

by

EyePod

25

462

Is there enough interest to do another ticket raffle?

Today

12:26 PM

by

BigRedChief

3

23

Injury update

Today

12:26 PM

by

DRM08

138

4,669

Chiefs AFC Championship Game Tailgate Thread

Today

12:22 PM

by

IowaHawkeyeChief

343

6,631

**** Official Chiefs VS Patriots AFC Championship Game Thread ****

Today

12:20 PM

by

IowaHawkeyeChief

1,752

43,151

» Online Users: 490
150 members and 340 guests
203Pat, 44yearsandcounting, AJKCFAN, allen_kcCard, AssEaterChief, Baby Lee, Baster mater, BDj23, bdlangton, Beef Supreme, Bewbies, big nasty kcnut, BigRedChief, Boxer_Chief, Brooklyn, carlos3652, CasselGotPeedOn, CervezaChill, Chiefs316, Chiefs42, Chiefs=Good, ChiefsandO'sfan, Chiefspants, Chief_N_Bama, cj2wr, ClevelandBronco, Clyde Frog, cooper barrett, Corandval1977, CrossCheck, DanBecky, Dayze, Dbawse, DC.chief, Detoxing, dj562006, dlphg9, DRM08, dwwataz, dynamicHDR, El Jefe, EyePod, farmerchief, Fish, Friggles, Frosty, GermanChief, GloryDayz, gonefishin53, HermanHater, Iconic, InChiefsHell, IowaHawkeyeChief, ISUJeff, Jerm, Jerok, jjjayb, JoeyChuckles, jsmax, KChiefs1, KCUnited, KCwolf, kcxiv, kczoo, kepp, kgchiefs, KILLER_CLOWN, KYChief, kysirsoze, LiveSteam, ljmhawk, loochy, Luv it, Lzen, MahomesKnows, MAHOMO 4 LIFE!, Marcellus, MGRS13, mlyonsd, Mr. Plow, Munson, Nevertrap, Nickhead, NinerDoug, NIUhuskies, O.city, OKchiefs, Old Dog, Pats59-1, petegz28, PHANTOM, philfree, pill, Raiderhader, RaidersOftheCellar, Rain Man, raybec 4, Renegade, ReynardMuldrake, RN47, RobertWeathers, RollChiefsRoll, rolltide2014, Rukdafaidas, RunKC, Sannyasi, saphojunkie, SAUTO, SFfan79, Shiver Me Timbers, Simply Red, smithandrew051, soonersfreak, steelyeyed57, stevieray, stumppy, Superturtle, Talisman, TambaBerry, The Pest, theoldcoach, Titty Baby, TomBarndtsTwin, TwistedChief, unothadeal, Warrick, wutamess, yeti
Most users ever online was 4,753, 12-04-2015 at 09:37 PM.