» Today's Birthdays
Sully (43)


» Stats
Members: 11,430
Threads: 231,155
Posts: 12,300,071

Welcome to our newest member, SUPER BOWL

» Welcome, guest!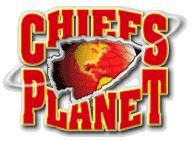 Welcome to ChiefsPlanet,
a Kansas City Chiefs Message Board
This forum is fast and furious with discussion on all variety of topics. Newbies welcomed. If you enjoy reading, don't be shy - please jump in and post!
If this is your first visit, be sure to check out the FAQ by clicking the link above. You will have to register before you can post; click the register link above to proceed. To start viewing messages, visit our main forum, The Lounge or click on a thread title below this message.
» Recent Threads
Title, Username, & Date
Last Post
Replies
Views
***** Official 2018-2019 Kansas Basketball Repository Thread *****

Today

03:35 PM

by

KC_Connection

1,054

40,489

NFL Rumors: Mahomes, Watson atop KC's QB wish list

Today

03:35 PM

by

htismaqe

659

42,123

**** Official Chiefs VS Patriots AFC Championship Game Thread ****

Today

03:33 PM

by

stevegroganfan

2,317

57,520

What's the best graphing calculator I can buy?

Today

03:32 PM

by

htismaqe

39

684

Chiefs AFC Championship Game Tailgate Thread

Today

03:31 PM

by

O.city

497

9,687

Chiefs' living and dying with pass rush will get ultimate test from Tom Brady

Today

03:30 PM

by

htismaqe

42

1,105

***Official Car and Gearhead Thread***

Today

03:30 PM

by

MIAdragon

4,575

360,348

Tech N9ne: "Red Kingdom"

Today

03:29 PM

by

BleedingRed

29

913

It's PAYBACK TIME

Today

03:26 PM

by

thurman merman

35

684

Anybody else buy Superbowl tickets?

Today

03:20 PM

by

IowaHawkeyeChief

57

1,156

» Online Users: 477
160 members and 317 guests
007, alpha_omega, Angry fan, Archie Bunker, Armyofme, AustinChief, Baby Lee, baitism, Barrymore50, BDj23, benslotky, Best22, Bewbies, big nasty kcnut, BleedingRed, BottomShelfBoose, Bowser, Buff_Asthmatic, BWillie, C3HIEF3S, cabletech94, CabronJames20, CapsLockKey, carlos3652, chefs fan in omaha, Chief Northman, chiefforlife, chiefs1111, Chiefs4TheWin, ChiefsandO'sfan, ChiefsFanatic, ChiefsHawk, ChiefsLV, Chiefspants, chinaski, ClevelandBronco, Coochie liquor, Cosmos, Dayze, Demonpenz, Denfan, displacedinMN, DJJasonp, dlphg9, Donger, DRM08, DrunkBassGuitar, emaw82, FAX, FD, Flachief58, Flix, ForeverChiefs58, Frosty, frozenchief, gaston11, God of Thunder, gpsdude, Hookersnblow, htismaqe, IAM4KC2, InChiefsHell, IowaHawkeyeChief, Iowanian, Jayheat, Jim Hammer, jjchieffan, JohnnyV13, Joshuabmayer, KcChiefs23, KCFalcon59, KCUnited, KC_Connection, kjwood75nro, kpic, KS Smitty, KYChief, Lex Luthor, Lilmrp117, listopencil, LiveSteam, LoneWolf, Luv it, Luvva, Marcellus, MavKC, MIAdragon, milkman, Mr_Tomahawk, mschiefs1984, Munson, New World Order, nieuport17.1977, Nightfyre, O.city, old_geezer, Pablo, philfree, PHOG, ping2000, pugsnotdrugs19, Raiderhader, RealSNR, Renegade, ReynardMuldrake, Rivaldo, RollChiefsRoll, Rukdafaidas, saphojunkie, SDChiefs, SithCeNtZ, smithandrew051, solidgold, soonersfreak, stevegroganfan, stumppy, SupDock, Superturtle, Sweet Daddy Hate, Taco John, TambaBerry, ThaVirus, TheMartyr, theoldcoach, Third Eye, threebag02, thurman merman, TLO, Tonka83, TwistedChief, WhawhaWhat, Zebedee DuBois
Most users ever online was 4,753, 12-04-2015 at 09:37 PM.