» Stats
Members: 12,793
Threads: 244,989
Posts: 13,530,449

Welcome to our newest member, emmydavid

» Welcome, guest!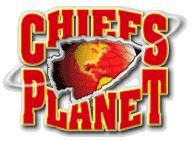 Welcome to ChiefsPlanet,
a Kansas City Chiefs Message Board
This forum is fast and furious with discussion on all variety of topics. Newbies welcomed. If you enjoy reading, don't be shy - please jump in and post!
If this is your first visit, be sure to check out the FAQ by clicking the link above. You will have to register before you can post; click the register link above to proceed. To start viewing messages, visit our main forum, The Lounge or click on a thread title below this message.
» Recent Threads
Title, Username, & Date
Last Post
Replies
Views
Joe Montana Regrets Retiring After 1994

Today

12:33 PM

by

Frazod

42

1,240

Sean Connery passed away

Today

12:31 PM

by

Frazod

60

973

Phoenix Area CP Gathering

Today

12:28 PM

by

Megatron96

1,317

115,009

Alright www.chiefsplanet.com --- we need to find a way to capture Psyche

Today

12:18 PM

by

KCUnited

2

3

What are your kiddos dressing up as for Halloween?

Today

12:16 PM

by

KCUnited

55

1,134

***NON-POLITICAL COVID-19 Discussion Thread***

Today

12:11 PM

by

petegz28

45,910

2,112,950

Broncos news megathread

Today

12:03 PM

by

staylor26

37,874

3,404,368

Deshaun Watson is not a top 10 QB

Today

12:03 PM

by

Megatron96

114

2,746

****Happy Halloween 2020****

Today

11:41 AM

by

Pasta Giant Meatball

28

290

Itís official: Pats were always Tom Brady. Not Bill Belichick.

Today

11:37 AM

by

RaidersOftheCellar

207

4,581

» Online Users: 555
87 members and 468 guests
44yearsandcounting, 65TPT, allen_kcCard, AustinChief, Baby Lee, bigjosh, Bl00dyBizkitz, burt, busted flush, carlos3652, cookster50, Dante84, DeepPurple, Denfan, Discuss Thrower, El Lobo Gordo, eyenthesky, Fat Elvis, frozenchief, Hammock Parties, Hog Rider, HoneyBadger, IrishChief, jayhawkkbs, jjchieffan, Justman59, jynni, KCUnited, kcxiv, KGSoloman5k, Kman34, KurtCobain, lcarus, Lennie Briscoe, MagicHef, MahomesKnows, Marcellus, MeaTy The Pimp, Megatron96, meStevo, mililo4cpa, mlyonsd, Molitoth, New World Order, notorious, petegz28, phisherman, PHOG, poolboy, Red Dawg, RINGLEADER, royr17, rydogg58, Shiver Me Timbers, soonersfreak, stonedstooge, the longest lurk, Third Eye, tidgit13, Wyatt Earp, yeti
Most users ever online was 4,753, 12-04-2015 at 09:37 PM.