» Stats
Members: 11,706
Threads: 231,978
Posts: 12,366,255

Welcome to our newest member, Derikwak

» Welcome, guest!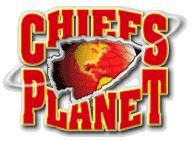 Welcome to ChiefsPlanet,
a Kansas City Chiefs Message Board
This forum is fast and furious with discussion on all variety of topics. Newbies welcomed. If you enjoy reading, don't be shy - please jump in and post!
If this is your first visit, be sure to check out the FAQ by clicking the link above. You will have to register before you can post; click the register link above to proceed. To start viewing messages, visit our main forum, The Lounge or click on a thread title below this message.
» Recent Threads
Title, Username, & Date
Last Post
Replies
Views
Another ****ing Snow Storm Thread

Today

11:04 PM

by

Titty Meat

217

7,828

The whole key to the offseason right here

Today

11:01 PM

by

bigbucks24

84

1,270

Would You 'Brock' Eric Berry?

Today

10:50 PM

by

Flying High D

31

1,383

-- Hey CP - Where exactly are you with regards to Justin Houston?

Today

10:49 PM

by

CoMoChief

194

4,833

Berry thinking about and checking into surgery

Today

10:48 PM

by

mac459

284

9,203

Personal finance and investing megathread extravaganza

Today

10:44 PM

by

Buehler445

2,666

241,479

Broncos news megathread

Today

10:43 PM

by

CoMoChief

34,103

1,731,810

RIP Peter Tork Monkees Singer Bassist Keyboardist

Today

10:37 PM

by

BigRedChief

55

1,041

****The Official 2019 STL Cardinals Thread****

Today

10:33 PM

by

Jewish Rabbi

71

3,727

***Official 2018-19 NHL Season Thread***

Today

10:26 PM

by

GloryDayz

75

3,520

» Online Users: 476
78 members and 398 guests
007, arrwheader, Baby Lee, bigbucks24, BigCatDaddy, BigRedChief, Bogart, BossChief, Camaro, Captain Obvious, Cave Johnson, Chief Northman, Chiefshrink, cosmo20002, DavinVamp, Dayze, djchief56, dlphg9, dopeboy206, duncan_idaho, eDave, elgatogrande, emaw82, Fat Elvis, Flying High D, GloryDayz, golfindude, Hammock Parties, Hamwallet, Iconic, ILikeBigTiddys, Inspector, Iowanian, jackkked, Jamie, Jerm, Jewish Rabbi, Jim Hammer, jjchieffan, KCJake, KCnodefense, KCUnited, Keganmn, KMEL, KS Smitty, Lilmrp117, LiveSteam, Luv it, mac459, Michelangelo, Miles, Mizzou_8541, Monkey God, mr. tegu, Mr_Tomahawk, phisherman, Pitt Gorilla, pugsnotdrugs19, Rain Man, RealSNR, Sannyasi, SAUTO, Shaid, stevieray, Strongside, Wyatt Earp, Zeke Ziggle
Most users ever online was 4,753, 12-04-2015 at 09:37 PM.