» Stats
Members: 11,912
Threads: 234,504
Posts: 12,603,540

Welcome to our newest member, customer

» Welcome, guest!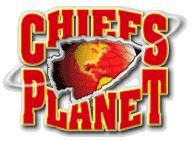 Welcome to ChiefsPlanet,
a Kansas City Chiefs Message Board
This forum is fast and furious with discussion on all variety of topics. Newbies welcomed. If you enjoy reading, don't be shy - please jump in and post!
If this is your first visit, be sure to check out the FAQ by clicking the link above. You will have to register before you can post; click the register link above to proceed. To start viewing messages, visit our main forum, The Lounge or click on a thread title below this message.
» Recent Threads
Title, Username, & Date
Last Post
Replies
Views
***Official Media Meltdown/Backpedal Thread***

Today

11:41 AM

by

Mosbonian

129

5,522

"Legion of Zoom"

Today

11:40 AM

by

Sweet Daddy Hate

90

1,686

HE GOOD OFFICIAL [Tyreek will not be suspended]

Today

11:40 AM

by

ARROW2

526

16,513

Broncos news megathread

Today

11:37 AM

by

BlackOp

34,714

2,111,485

Mahomes is already working out with Tyreek

Today

11:17 AM

by

Hog's Gone Fishin

74

3,287

Media slamming Tongue Ticklin' Tom (Brady)

Today

11:06 AM

by

listopencil

25

646

Mike Florio on 610

Today

10:53 AM

by

007

150

6,562

Fangio: "Drew Lock is a hard-throwing pitcher who doesn't know how to pitch yet."

Today

10:51 AM

by

listopencil

28

857

Welcome back Dane.

Today

10:42 AM

by

Hammock Parties

90

2,522

Thoughts on Gehrig Dieter

Today

10:40 AM

by

chinaski

105

5,051

» Online Users: 539
81 members and 458 guests
44yearsandcounting, A8bil, AndChiefs, bax_, BlackOp, bluehawkdoc, Bump, Cave Johnson, Chief Roundup, ChiefAshhole1056, chinaski, Coochie liquor, cooper barrett, Dartgod, Detoxing, Direckshun, displacedinMN, DTHOF, el borracho, fan4ever, FanOfRED, Fat Elvis, GloryDayz, Hammock Parties, Husker, Hydrae, Iconic, JerseyChief, Jimmya, kcmaxwell, KCUnited, kcxiv, King_Chief_Fan, LiveSteam, MagicHef, MAHOMO 4 LIFE!, MephistophelesJanx, MGRS13, Miles, Misplaced_Chiefs_Fan, mnchiefsguy, Munson, neech, Over Yonder, phisherman, Radar Chief, Randallflagg, Randy the Fan, RaytownChief, Roy Munson, Stinger, Sweet Daddy Hate, TambaBerry, Thunderlizard, TrebMaxx, treeguy27, vailpass, wazu, Windrammer, Zebedee DuBois
Most users ever online was 4,753, 12-04-2015 at 09:37 PM.