» Stats
Members: 12,973
Threads: 246,867
Posts: 13,752,836

Welcome to our newest member, Dbag

» Welcome, guest!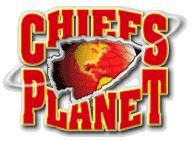 Welcome to ChiefsPlanet,
a Kansas City Chiefs Message Board
This forum is fast and furious with discussion on all variety of topics. Newbies welcomed. If you enjoy reading, don't be shy - please jump in and post!
If this is your first visit, be sure to check out the FAQ by clicking the link above. You will have to register before you can post; click the register link above to proceed. To start viewing messages, visit our main forum, The Lounge or click on a thread title below this message.
» Recent Threads
Title, Username, & Date
Last Post
Replies
Views
RGR Live at 7 / Run it Back!

Today

07:40 PM

by

Direckshun

3

6

The Chop is Changing... Barely

Today

07:40 PM

by

InChiefsHeaven

116

5,291

Fisher has a Achilles injury

Today

07:39 PM

by

tredadda

223

6,946

Not-Politics "Awesome Meme" Thread

Today

07:38 PM

by

GloryDayz

1,031

151,261

Ten Things About The AFC Championship: KC 38 - BUF 24

Today

07:35 PM

by

GloryDayz

87

2,433

Good game Chiefs fans

Today

07:35 PM

by

Bearcat

102

2,618

Chris Simms Reviews AFCC: Chiefs vs Bills

Today

07:30 PM

by

Tribal Warfare

0

1

The uncomfortable reality that is a fading Tom Brady

Today

07:28 PM

by

KC_Connection

2,415

225,859

Anyone know a good knockoff jersey site?

Today

07:28 PM

by

Jewish Rabbi

19

380

**Run It Back get a personalized drawing from me**

Today

07:24 PM

by

Rasputin

419

15,468

» Online Users: 749
140 members and 609 guests
-King-, Baby Lee, bax_, BDj23, booyaf2, Bowser, Buehler445, busted flush, carcosa, CarlosCarson88, CasselGotPeedOn, Chief Northman, ChiefaRoo, chiefforlife, Chiefs42, Chiefs4TheWin, ChiefsCountry, chiefsfan58, comochiefsfan, CordMcNally, cosmo20002, Dallas Chief, Detoxing, Direckshun, dj56dt58, Donger, duncan_idaho, Eureka, Fat Elvis, Fish, fredflintrock, FringeNC, frozenchief, GloryDayz, GloucesterChief, golfindude, Goodys, Great8, Hammock Parties, Hawker007, Herewego, HonestChieffan, Hoopsdoc, Icon, InChiefsHeaven, Indian Chief, IreshChief, jamesadamic, jerryaldini, Jewish Rabbi, KC BOND, KCChiefsFan88, kcmecker, KCUnited, KC_Connection, kevrunner, kjwood75nro, Lickerman, Los Pollos Hermanos, louie aguiar, Lzen, Mahomes_Is_God, MAHOMO 4 LIFE!, Marcellus, mattro18, Megbert, mightyphoenix1, Miles, Misplaced_Chiefs_Fan, mlyonsd, mr. tegu, mrbiggz, Ninerfan11, notorious, nychief, Oz_Chief, penguinz, POND_OF_RED, PRIEST, pugsnotdrugs19, Punwit, Pushead2, RaidersOftheCellar, Randallflagg, Rasputin, REDHOTGTO, RedRaider56, RollChiefsRoll, RustShack, Sig, smithandrew051, Soonerfan, Sorry, sparky454, stevieray, Stryker, Superturtle, suzzer99, TexasChief, The Bunk, The Franchise, The Plain Truth, Thunderlizard, TimBone, TomBarndtsTwin, tredadda, trndobrd, Tyreek Pikachu, WhawhaWhat, Wilson8, YayMike
Most users ever online was 4,753, 12-04-2015 at 09:37 PM.