» Welcome, guest!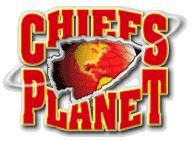 Welcome to ChiefsPlanet,
a Kansas City Chiefs Message Board
This forum is fast and furious with discussion on all variety of topics. Newbies welcomed. If you enjoy reading, don't be shy - please jump in and post!
If this is your first visit, be sure to check out the FAQ by clicking the link above. You will have to register before you can post; click the register link above to proceed. To start viewing messages, visit our main forum, The Lounge or click on a thread title below this message.
» Recent Threads
Title, Username, & Date
Last Post
Replies
Views
Hobbies....what's yours?

Today

08:36 AM

by

redhed

119

2,032

Eric Berry has a Haglundís deformity on his heel

Today

08:34 AM

by

Brooklyn

2,138

59,848

****TNF Packers @ Seahawks****

Today

08:33 AM

by

Hoover

115

1,688

Ketchup on your steak?

Today

08:21 AM

by

BigRedChief

189

3,264

Hi guys!!!

Today

08:18 AM

by

BigRedChief

7

40

Let's talk about the Rams

Today

08:16 AM

by

penchief

423

13,690

50 Beers to Try Before You Die

Today

08:11 AM

by

phisherman

4,179

544,744

Public Thanks to Inmem58/In58men

Today

07:56 AM

by

Flying High D

24

530

The Current Playoff Picture

Today

07:44 AM

by

KChiefs1

24

538

Mmqb Andy Reid coaching tree success

Today

07:39 AM

by

KChiefs1

6

293

» Online Users: 437
82 members and 355 guests
"Bob" Dobbs, 65TPT, beach tribe, Bearcat, Beef Supreme, BigBeauford, BigRedChief, bishop_74, Brooklyn, brorth, Cave Johnson, Chiefspants, chinaski, cron912, Dartgod, DavidsDad, ForeverChiefs58, Friggles, FringeNC, Gary, Hawk, Hog's Gone Fishin, Humbug, IA_Chiefs_fan, jsmax, KCFalcon59, KCUnited, KC_Lee, Kellerfox, LiveSteam, LV Tim, mac459, MagicHef, MahomesMagic, Malcor, MatriculatingHank, MavKC, MIAdragon, Molitoth, oldandslow, Pablo, ptlyon, raybec 4, Red Dawg, redhed, redngold58, Renegade, Rukdafaidas, RunKC, SAUTO, Simply Red, Sorce, staylor26, Stryker, stumppy, SupDock, suzzer99, Talisman, TambaBerry, TheMartyr, Third Eye, Tnerped, Trivers, tyreekthefreak, vailpass, Whoarethechefs, Why Not?, Wyatt Earp, Yosef_Malkovitch
Most users ever online was 4,753, 12-04-2015 at 09:37 PM.

» Wallpapers

» Stats
Members: 10,961
Threads: 229,490
Posts: 12,142,947

Welcome to our newest member, Buddha512