» Stats
Members: 13,950
Threads: 257,319
Posts: 15,007,166

Welcome to our newest member, BigRedMax

» Welcome, guest!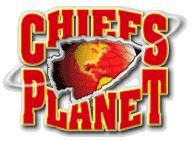 Welcome to ChiefsPlanet,
a Kansas City Chiefs Message Board
This forum is fast and furious with discussion on all variety of topics. Newbies welcomed. If you enjoy reading, don't be shy - please jump in and post!
If this is your first visit, be sure to check out the FAQ by clicking the link above. You will have to register before you can post; click the register link above to proceed. To start viewing messages, visit our main forum, The Lounge or click on a thread title below this message.
» Recent Threads
Title, Username, & Date
Last Post
Replies
Views
So how much is it gonna cost to extend Chris Jones now?

Today

04:03 PM

by

Red Dawg

56

1,420

Letís talk about the Eagles (Super Bowl edition!)

Today

04:02 PM

by

RaidersOftheCellar

289

7,856

Ten Things About AFC Championship: KC 23 Jabronis 20

Today

04:02 PM

by

DenverChief

56

1,386

Here comes the winds of change Bengals

Today

04:02 PM

by

Red Dawg

53

1,461

**** OFFICAL Injury Watch Thread ****

Today

04:01 PM

by

Pitt Gorilla

110

4,229

Orlando Brown Projected Contract 6 year $145 mil

Today

03:59 PM

by

Pitt Gorilla

4,847

192,454

post all the haters posts here

Today

03:58 PM

by

htismaqe

269

6,889

A Clip of Fans Reactions to AFC Championship Game

Today

03:54 PM

by

notorious

7

271

Brett Veach, take a bow

Today

03:54 PM

by

Wisconsin_Chief

71

1,937

Frank Clark no longer ****ing sucks

Today

03:52 PM

by

Megatron96

997

37,152

» Online Users: 625
154 members and 471 guests
-King-, 493rd, AJKCFAN, alpha_omega, Archie Bunker, arrwheader, BigBeauford, BigRichard, Boxer_Chief, bringbackmarty, BWillie, B_Ambuehl, CasselGotPeedOn, Cave Johnson, Chief Pagan, Chief Redmen, Chief Roundup, ChiefBlueCFC, ChiefsCountry, ChiefsHawk, chiefzilla1501, Chris Meck, Coochie liquor, cookster50, Corandval1977, Cosmos, Dallas Chief, DaNewGuy, Danguardace, deegs, DenverChief, Detoxing, displacedinMN, DJ's left nut, Donger, Ecto-I, emaw82, Eureka, fast450ridr, FlaChief58, FringeNC, fulltilt, funkymunk, Goldentriangle, Gravedigger, Great Expectations, hawkchief, Hawker007, Hayneplane, HemiEd, HoneyBadger, htismaqe, IChief, In58men, InChiefsHeaven, Jamie, jerryaldini, journeyscarab, JPH83, Juan Time, KC Hawks, KCChiefsFan88, kcclone, kcmecker, kepp, Knob, LiveSteam, loochy, louie aguiar, Macroach, Marco Polo, marcus, MartinThore, MeaTy The Pimp, Megatron96, Mephistopheles Janx, mililo4cpa, milkshock, mkp785, mnchiefsguy, Molitoth, montyma, mr. tegu, notorious, osumatt, Otter, PAChiefsGuy, Papi, PattyFlakes, Pawnmower, penguinz, Peter Gibbons, philfree, phisherman, ping2000, Pitt Gorilla, ptlyon, Raiderhater, RaidersOftheCellar, raybec 4, RealSNR, Red Dawg, RedinTexas, redshirt32, RockChalk, Ron Swanson, ROYC75, RunKC, shakesthecat, Shields68, Shiver Me Timbers, smithandrew051, soonersfreak, Spott, St. Patty's Fire, Starbuc, staylor26, stevegroganfan, stevieray, Streams of Whiskey, Superturtle, tarheel23, The Franchise, The Iron Chief, TheGuardian, Third Eye, threebag, TomBarndtsTwin, tooge, Vladimir_Kyrilytch, wachashi, Wisconsin_Chief, Zebedee DuBois
Most users ever online was 4,753, 12-04-2015 at 09:37 PM.