» Stats
Members: 12,574
Threads: 241,852
Posts: 13,233,127

Welcome to our newest member, Drioss

» Welcome, guest!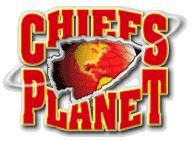 Welcome to ChiefsPlanet,
a Kansas City Chiefs Message Board
This forum is fast and furious with discussion on all variety of topics. Newbies welcomed. If you enjoy reading, don't be shy - please jump in and post!
If this is your first visit, be sure to check out the FAQ by clicking the link above. You will have to register before you can post; click the register link above to proceed. To start viewing messages, visit our main forum, The Lounge or click on a thread title below this message.
» Recent Threads
Title, Username, & Date
Last Post
Replies
Views
Karen meltsdown because store won't let her shop without a mask

Today

05:45 PM

by

vonBobo

504

13,734

***NON-POLITICAL COVID-19 Discussion Thread***

Today

05:37 PM

by

POND_OF_RED

33,442

989,405

Add Three Words

Today

05:28 PM

by

KurtCobain

7,441

454,801

The Future Owner of the Kansas City Chiefs, Gracie Hunt

Today

05:19 PM

by

swifty32661

306

40,395

David Carr hints that he hopes Mahomes has a short injury riddled career

Today

04:55 PM

by

PurpleRiders51

60

2,036

****Official 2019-2020 NHL Season Thread****

Today

04:52 PM

by

mlyonsd

208

13,965

Space Exploration megathread (manned launch 5/27)

Today

04:46 PM

by

eDave

2,675

289,583

*****The Patrick Mahomes Thread*****

Today

04:44 PM

by

RealSNR

27,650

2,631,222

Dr. Fauci on likihood of NFL football being played in the fall

Today

04:32 PM

by

Halfcan

571

12,787

Las Vegas Raiders stadium looking sweet!

Today

03:55 PM

by

LiveSteam

195

13,990

» Online Users: 562
87 members and 475 guests
Al Bundy, alanm, BanHam, Beef Supreme, BigCatDaddy, bobhill, BWillie, candyman, CarlosCarson88, CatfishBob2, Chief3188, chieffan09, ChiefsCountry, ChiliConCarnage, cj2wr, cookster50, eDave, fktrmp, FringeNC, golfindude, Hammock Parties, HoneyBadger, IChief, Icon, InChiefsHeaven, jamesadamic, Javabean, Jewish Rabbi, KCChiefsFan88, KCUnited, kevrunner, KurtCobain, La literatura, listopencil, LiveSteam, loochy, Lurker, mac459, MahiMike, mazrim1978, mdstu, Mike in SW-MO, Mizzou_8541, MMXcalibur, mschiefs1984, Msmith, neblo, NinerDoug, Ninerfan11, notorious, Otis Day, Over Yonder, Pablo, Pasta Giant Meatball, petegz28, POND_OF_RED, Raiderhader, Rain Man, Rams Fan, RealSNR, redfriday, RodeoPants2, schneider221, SFfan79, Sig, Stanley Nickels, staylor26, sully1983, Superturtle, ThaVirus, vonBobo, wazu, Why Not?, yeti
Most users ever online was 4,753, 12-04-2015 at 09:37 PM.