» Stats
Members: 11,703
Threads: 231,912
Posts: 12,360,013

Welcome to our newest member, Keganmn

» Welcome, guest!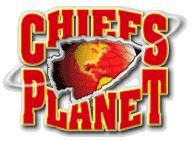 Welcome to ChiefsPlanet,
a Kansas City Chiefs Message Board
This forum is fast and furious with discussion on all variety of topics. Newbies welcomed. If you enjoy reading, don't be shy - please jump in and post!
If this is your first visit, be sure to check out the FAQ by clicking the link above. You will have to register before you can post; click the register link above to proceed. To start viewing messages, visit our main forum, The Lounge or click on a thread title below this message.
» Recent Threads
Title, Username, & Date
Last Post
Replies
Views
Chiefs hire Steve Spagnuolo as new defensive coordinator

Today

01:45 PM

by

htismaqe

2,338

65,092

2019 Free agency Thread

Today

01:45 PM

by

BossChief

329

11,858

Dinner w/Pat & Brittany $52k

Today

01:39 PM

by

chinaski

42

1,207

OBJ getting a 5 year mega deal

Today

01:35 PM

by

Hammock Parties

67

2,428

***** Official 2018-2019 Kansas Basketball Repository Thread *****

Today

01:31 PM

by

lawrenceRaider

1,602

57,835

*** Official 2018-2019 Royals Offseason Repository ***

Today

01:25 PM

by

Prison Bitch

412

21,955

Keep back in the league? [Kaep]

Today

01:20 PM

by

Cave Johnson

24

1,187

Damn, George was SMOOTH!

Today

01:19 PM

by

DJJasonp

9

369

Phoenix Area CP Gathering

Today

12:31 PM

by

Why Not?

783

28,268

Hypothetical: If you were aboard the Titanic.

Today

12:19 PM

by

InChiefsHell

162

2,756

» Online Users: 538
104 members and 434 guests
-King-, AbsoluteEvil, AJKCFAN, AldenMume, alpha_omega, Baby Lee, baitism, Bearcat, Beef Supreme, Best22, blake5676, booyaf2, BossChief, bringbackmarty, Buns, CasselGotPeedOn, Chazno, ChiefAshhole1056, Chiefs42, Chiefspants, chinaski, Chris Meck, Color Red, CoMoChief, Coochie liquor, crayzkirk, cron912, dannybcaitlyn, Dartgod, DJ's left nut, dj56dt58, Donger, eDave, gpsdude, Hailchief, Hali-lujah, Hammock Parties, Hawkeye54545, hinde58, htismaqe, iachief, Imon Yourside, jaa1025, Jayheat, Jerm, Jerok, Jim Hammer, jjjayb, Jodi's Bareback, KC Hawks, KCFalcon59, KCrockaholic, KCUnited, Keganmn, Kellerfox, LabelX, lawrenceRaider, MagicHef, Marcellus, Mennonite, MephistophelesJanx, mililo4cpa, MMXcalibur, mr. tegu, Mr_Tomahawk, Munson, New World Order, NewChief, NinerDoug, old_geezer, PAChiefsGuy, petegz28, PHANTOM, philfree, Prison Bitch, pugsnotdrugs19, Radar Chief, Randallflagg, Renegade, RunKC, seaofred, Shaid, shakesthecat, Sideburn, Sully, SuperBowl4, Superturtle, Supmarkus, thechiefhusker, Third Eye, Toad, treeguy27, vailpass, Warrick, whoaskew, Why Not?, Yosef_Malkovitch
Most users ever online was 4,753, 12-04-2015 at 09:37 PM.