» Stats
Members: 12,121
Threads: 236,432
Posts: 12,775,397

Welcome to our newest member, richardbowen

» Welcome, guest!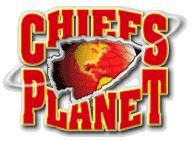 Welcome to ChiefsPlanet,
a Kansas City Chiefs Message Board
This forum is fast and furious with discussion on all variety of topics. Newbies welcomed. If you enjoy reading, don't be shy - please jump in and post!
If this is your first visit, be sure to check out the FAQ by clicking the link above. You will have to register before you can post; click the register link above to proceed. To start viewing messages, visit our main forum, The Lounge or click on a thread title below this message.
» Recent Threads
Title, Username, & Date
Last Post
Replies
Views
Trent Brown Sued for Domestic Violence

Today

07:32 AM

by

rabblerouser

2

3

Orlovsky implores NFL owners to fix officiating 'epidemic'

Today

07:32 AM

by

GloryDayz

73

2,164

Week 7: Let's talk about the Broncos

Today

07:31 AM

by

St. Patty's Fire

174

4,772

Chiefs worked out Justin Ellis, Mike Pennel Tuesday

Today

07:17 AM

by

chiefzilla1501

37

1,147

Why doesnt Reid play with his Sausage more often?

Today

07:06 AM

by

St. Patty's Fire

39

547

When should Spags be fired?

Today

06:58 AM

by

RaidersOftheCellar

85

1,601

Marcus Peters to the Ravens

Today

06:46 AM

by

rabblerouser

143

5,459

Jalen Ramsey to the Rams

Today

06:44 AM

by

rabblerouser

147

5,008

On the bright side, Kpass is starting to perform

Today

06:39 AM

by

cabletech94

13

522

****Official 2019 MLB Postseason Thread****

Today

06:34 AM

by

Chiefspants

171

3,242

» Online Users: 1,733
97 members and 1,636 guests
"Bob" Dobbs, 493rd, 65TPT, AdolfOliverBush, AJKCFAN, BDj23, BigBeauford, blake5676, bobhill, BOXERAJ, brorth, candyman, carcosa, carlos3652, Chazno, chiefs1111, Chiefs=Good, ChiefsCountry, ChiefsHawk, Chiefspants, chiefzilla1501, cookster50, Dayze, dilligaf, DJ's left nut, Don Corlemahomes, Donger, DTHOF, Friggles, GloryDayz, Go Royals, IChief, Iczer, jaa1025, Jamie, jayhawksandchiefs, Jerm, Jewish Rabbi, johnlocke, Judge Smails, kczoo, KentuckyChief, Los Pollos Hermanos, MahomesMagic, Malcor, Marcellus, MartinThore, MeaTy The Pimp, Megbert, Mile High Mania, mlyonsd, notorious, O.city, Old Dog, oldandslow, old_geezer, Pablo, phisherman, Pogue, primetime444, Prison Bitch, RedandGold, redshirt32, Renegade, RollChiefsRoll, rtuimauga, Rukdafaidas, Shaid, Shields68, Sideburn, St. Patty's Fire, steelyeyed57, Stryker, Superturtle, TambaBerry, The Franchise, TheMartyr, Thunderlizard, tyreekthefreak, Ubeja Vontell, UChieffyBugger, Warpaint69, wazu, WhawhaWhat, Why Not?
Most users ever online was 4,753, 12-04-2015 at 09:37 PM.